Brock Lake
Brock Lake is a 10-acre lake with approximately .3 miles of shoreline accessible to bank fisherman. A gravel boat ramp and fishing dock is present. Electric trolling motors are the only motors allowed on boats. Brock Lake was enrolled into a fisheries Co-Op agreement with the IDNR in 2019.
Brock Lake is home to Nunley Fields which hosts Dee-Mack Chiefs Softball, Dee-Mack Braves Softball, Mackinaw Township Recreation Baseball/Softball programs, Dee-Mack Warriors Baseball and Dee-Mack JFL which has a dedicated field.
Largemouth Bass: The 2019 fall electrofishing survey collected 102 largemouth bass and revealed a population that was concentrated from 5 to 12 inches in length. No bass over 13 inches were collected. The body condition was fair with an average value of 89. Bass were collected at a rate of 204/hr. indicating a high-density population.
Bluegill: The bluegill population was sampled by 30 fish in the 2019 fall electrofishing survey. They ranged in size from 1 to 8.7 inches in length with an average body condition rating of 94. The current bluegill population is rated as very good. A future improvement in the bass population size structure as well as some aquatic vegetation management would help maintain this good bluegill size structure.
Black Crappie: The black crappie population was evaluated by 7 crappies ranging from 9 to 10.5 inches. The body condition was good with a value of 97.
Channel Catfish: The channel catfish population was evaluated by 3 catfish ranging from 18 to 21 inches. They had a relative weight value of 99. IDNR will add Brock Lake to the channel catfish stocking schedule starting in 2020.
On December 22, 2020, 30 "porcupine ball" fish attractors were added to Brock Lake. They were placed in 2 groups, one in front of the wooden fishing dock and the other off the main point of the lake in around 10-12 ft of water. Both groups are within easy casting distance of the shore and should be "relatively" snag free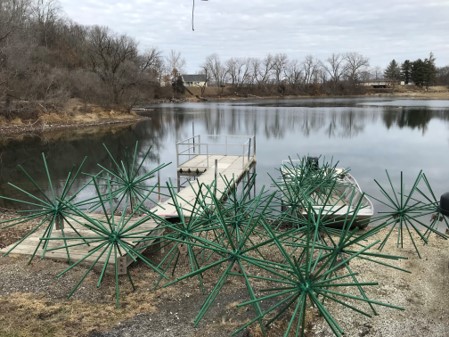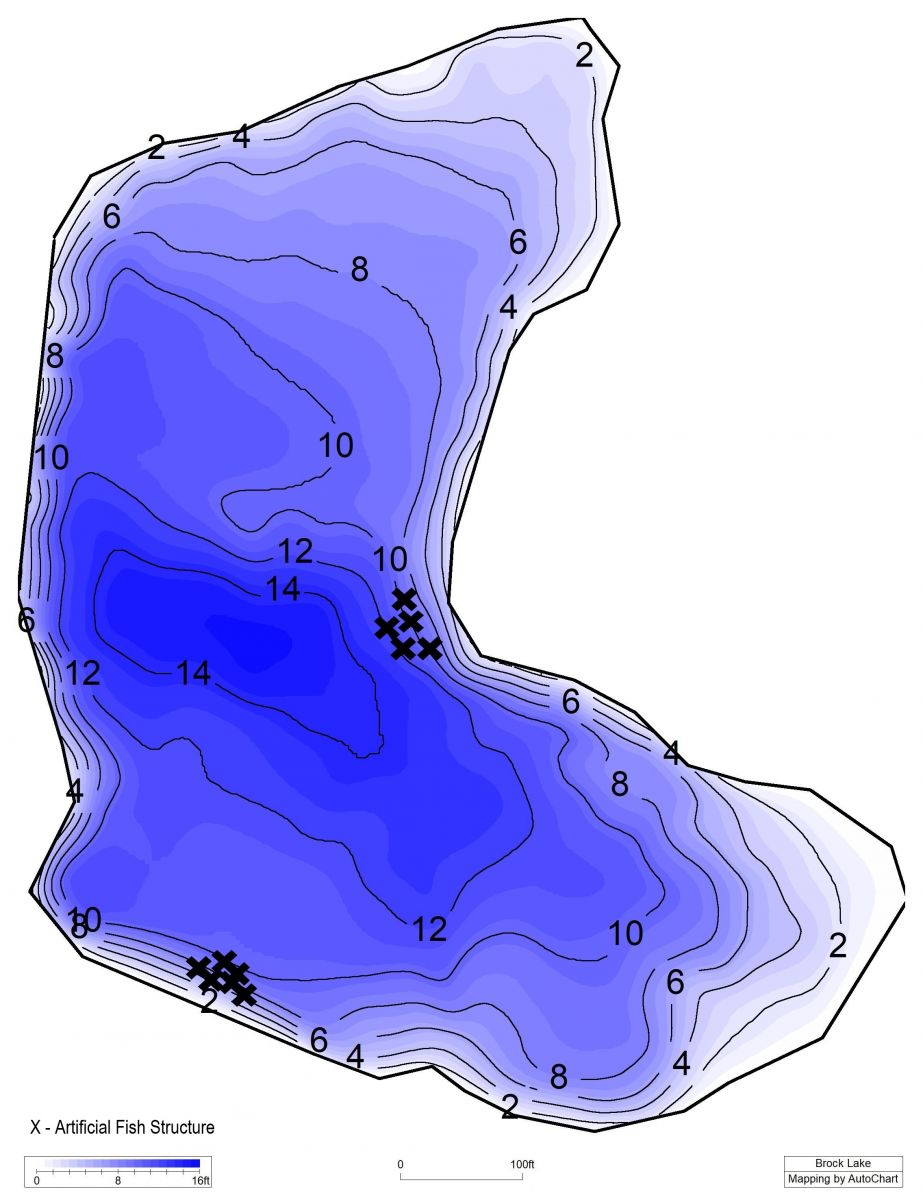 Locations
Brock Lake
29550 E. Hoffman Rd.
Mackinaw, Illinois 61755